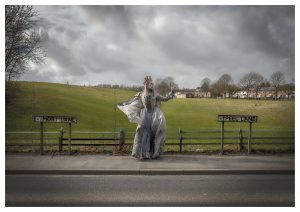 Meet the artist:
Drag artist Cheddar Gorgeous uses makeup, costume and performance to 'create living spectacles and tell stories' inspired by everything from historical figures to environmental issues. For Rediscovering Salford, Cheddar has been researching the area of Little Hulton and Madam's Wood; in particular the story of Madam Mort, who lived in the area in the 1700's and is now rumoured to roam the woods as a ghostly apparition. In collaboration with local artists, Cheddar has created a new outfit inspired by Madam Mort's story – including fabrics hand-dyed using foraged natural materials from the area, as well as incorporating local people's written memories into the fabric design.
About the artist:
Cheddar is a drag, boylesque and transformation artist. Their work involves the creation of living spectacles that collage makeup, costume and performance as forms of self-exploration, expression, political action and storytelling. Cheddar has performed in cabarets, festivals and galleries from Hong Kong to California and was also featured on Channel 4's Drag SOS.
Cheddar worked with Manchester Museum as part of their LGBTQ+ programme, which included a 'family friendly digital drag show' Queer Tales: Myths and Monsters (2020), and most recently with Manchester International Festival for their MIF Remote Residency programme during the COVID-19 crisis.

www.instagram.com/cheddar_gorgeous
Image: Cheddar Gorgeous – Untitled (2021) Digital photograph, courtesy the artist and Lee Baxter.