---
Talk Recordings:
Alongside the You Belong Here exhibition, a programme of events including artist talks, workshops, and tours took place.

You can catch up on recordings of the talk series below, exploring in more detail the commissioned artists' practices, how they responded to the theme of Salford's green spaces, and the work each artist produced for You Belong Here.
Artist Talk: Hilary Jack
29th September 2021
Hilary Jack, in conversation with Lindsay Taylor, Curator, University of Salford Art Collection, discusses her work Unsettled Ground; a series of sculptural birdboxes based on the local architecture of the past and present commissioned for You Belong Here.
Artist Talk: Cheddar Gorgeous with Liquorice Black and Natalie Linney
06th October 2021
Cheddar Gorgeous, Liquorice Black and Natalie Linney discuss the collaborative process behind Gorgeous' Madam Mort commissioned for You Belong Here, in an informal discussion panel, led by curator, writer, and creative producer Greg Thorpe.
On Nature and Time: Artist Talk with Anna Ridler
20th October 2021
Anna Ridler alongside writer Georgia Ward Dyer and Sylvia Travers from RHS Garden Bridgewater discusses the notion of keeping time and forms of intelligence in the natural world in relation to her work Circadian Bloom, commissioned by the University of Salford Art Collection for You Belong Here.
Coming Soon!
The Storm Cone: Artist Talk with Laura Daly

---

Past Events:
Join the Party!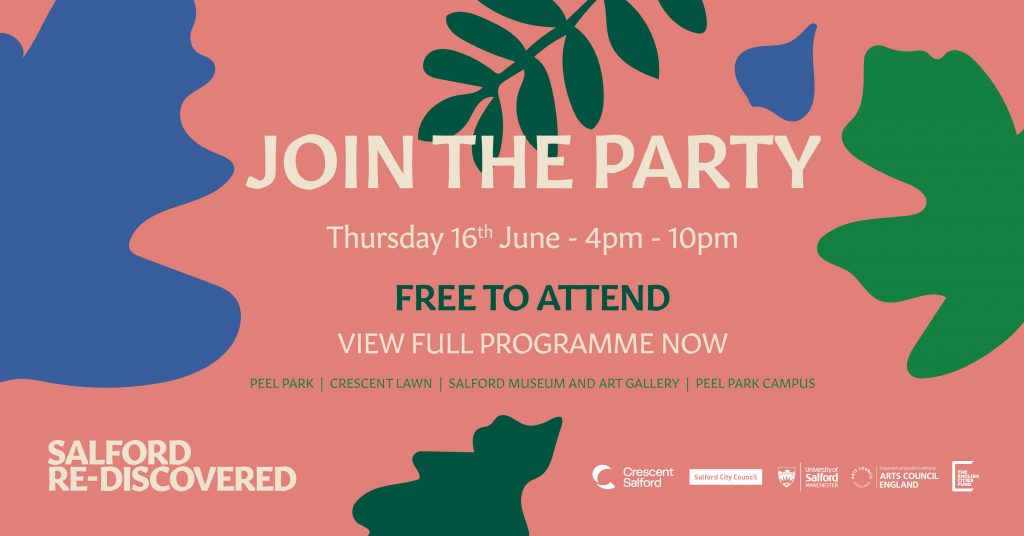 Join us on the 16th of June for Salford Rediscovered: a celebration sprawling across the Crescent and showcasing the artists, stories, and green spaces from the city-wide Rediscovering Salford project, of which You Belong Here has been an integral part.
From 2020 – 2022, the project animated the city with new commissions, exhibitions, workshops and events. As it comes to a close, we will gather to share and celebrate with a bang across Salford Museum and Art Gallery, the University of Salford campus, and Peel Park. The event will include visual art, music, films, tours, performances and more. From an exclusive appearance of 'Madam Mort' as created by drag artist Cheddar Gorgeous, to mouth-watering street food from GRUB, and to family-friendly workshops, this is a party for anyone and everyone.
Join us on the 16th of June, 4pm – 10pm to celebrate the project.
---