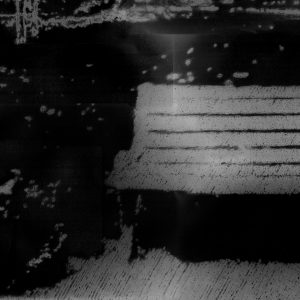 Meet the artist:
About the work:

Lizzie King's new work responds to Peel Park, well known as one of the first public parks to open in the country, and the first to be funded by public subscription. A place that Lizzie has visited since childhood, the park offers an important and inclusive space for rest, relaxation and reflection. Lizzie's work considers this through focussing on the park bench as a symbol: 'The bench is an infrastructure that says, 'you belong here'. It roots the people to the place and gives us a way of connecting to the nature around us. The bench doesn't ask us to do anything – it just asks us to be.'
Working with printmaking and photography techniques, Lizzie presents a new series of works celebrating the park bench. A series of printed postcards will be available for visitors to use, sharing their own reflections and memories of the Park – inspired by historic postcards in our archives from around 100 years ago – when Salford was a popular holiday destination!
Read more about Lizzie's work in the March edition of the Fourdrinier magazine, online here
About the artist:
The narrative of our 'human centred universe' is the centre point of Lizzie King's practice. Her artwork is often inspired by scientific articles and fictional books; and the materials used are often informed by these stories. Lizzie explores the notion that 'humankind can only see the world through their own eyes' by creating images of the world around us; using light and the processes of photography and printmaking.
Lizzie graduated with a BA (Hons) Visual Arts at the University of Salford. In 2014, she was awarded a place on the inaugural Graduate Scholarship Programme, run by the University of Salford Art Collection and Castlefield Gallery, and was based at Islington Mill studios.
www.cargocollective.com/lizzieking
Image: Lizzie King – Belonging (2021), detail. C-Type print of 42 individual silver gelatin prints. Courtesy the artist.